"Our Customers Are Warm Friends"

---

752 Main Street
Holden, MA 01520
Today is Tuesday - Sep 26, 2023








DUCTLESS MINI-SPLITS
---
Ductless Mini-Split Heating & AC System Installation, Repair & Maintenance
Mini-Splits are heating and cooling systems that allow you to control the temperatures in individual rooms or spaces without the cost and inconvenience of having to install full ductwork if your home is not already set up with a duct system. Mini-Splits are more energy efficient than window AC units and don't require the complex, expensive ductwork associated with installing central air conditioning systems. Mini-Splits are also a great option to increase the comfort of a room or space that you were not able to before such as; sun porches, garages, workshops, finished attics or an addition on your home.


Benefits of Mini-Split Systems:
More energy efficient than window mounted AC units
Doesn't require expensive ductwork
Lose less cooling than traditional AC systems, saving energy and expense
Room by room control: keep each room at a customized temperature via remote access such as remote controls and timers
Super quiet: Fujitsu's whisper quiet technology offers comfort without noise
What is a Mini-Split?
A Mini-Split system has two main components; an outdoor compressor/condenser and also an indoor air-handling unit or units known as evaporators. Mini-Split heat pumps are not only great solutions for your whole home or new construction homes, but make good retrofitted add-ons to houses with "non-ducted" heating systems, such as hydronic (hot water heat), radiant panels, and space heaters (wood, kerosene, propane). They can also be a good choice for room additions where extending or installing ductwork is not a good option or in an energy efficient new home that requires only a small space heating/AC system. Due to their energy saving efficiency, Mass Save Rebates may also be available.


Mini-Splits vs. Central Air Conditioning
Mini-Split systems have little-to-no ducts, so they avoid the energy losses associated with the ductwork of central forced air systems. Duct losses can account for more than 30% of energy consumption for space conditioning, especially if the ducts are in an unconditioned space such as an attic or basement. Central air systems require expensive ductwork.


Fujitsu Mini-Split Systems
Harrington Oil is proud to offer Fujitsu single room or multi-room Ductless Mini-Split heating and cooling systems to their customers. For more information about Fujitsu Mini-Splits, visit: What is a Mini-Split?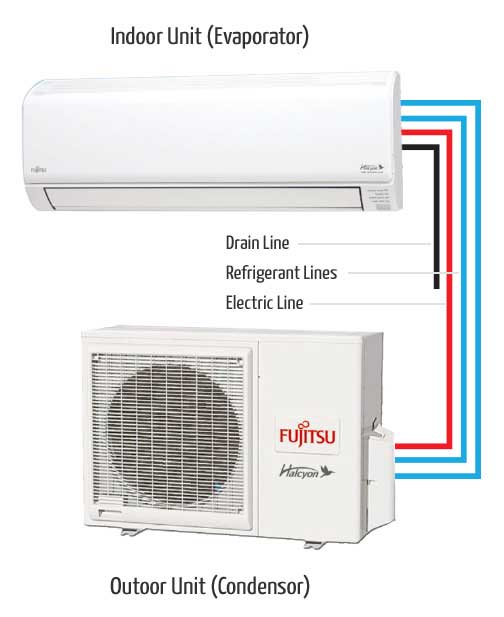 © Copyright 2010-2023 - Harrington Oil, Inc. - All Rights Reserved - Legal - Privacy